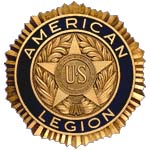 You are Invited to Join the American Legion
We are Veterans. We care about America, veterans and their families, and our community. Join us. An array of benefits awaits you. The American Legion is always there for you and your family!
If you are on active duty today, anywhere in the world, or have served during any eligible war eras, as shown below, you are a veteran and you're eligible to become a Legionnaire! To join, contact the Post 202 Adjutant or 1st Vice Commander at 573-442-2950 or send an email to adjutant@americanlegionpost202.org. You may also complete the application form online .
Dates of Eligibility
August 2, 1990 to Open

August 23, 1989 to January 31, 1990

August 24, 1982 to July 31, 1984

February 28, 1961 to May 7, 1975

June 25, 1950 to Jan 31, 1955

December 7, 1941 to December 31, 1946
Branch of Service