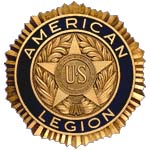 You are Invited to Join the American Legion
We are Veterans. We care about America, veterans and their families, and our community. Join us. An array of benefits awaits you. The American Legion is always there for you and your family!
Thanks to the LEGION Act (Let Everyone Get Involved In Opportunities for National Service Act),
Congress expanded the current eligibility period to cover Dec. 7, 1941, to the present, and includes the current war campaigns. Previously, there were seven declared war periods. Now there are two, the current war period dating back to World War II and another war era covering World War I.
To join, contact the Post 202 Adjutant or 1st Vice Commander at 573-442-2950 or send an email to adjutant@americanlegionpost202.org. You may also complete the application form online.
Branch of Service